Elevate the Customer Experience with Contact Center
Are you running an existing and established Contact Center with many different campaigns, or looking to start one inside your organization?
Contact Centers come in different shapes and sizes. Bicom Systems recognizes this. For large professional Contact Centers that manage many different campaigns the quality of tools can save considerable resources second by second, day by day. Often, though, the manner and structure of the workflow and staff positioning is what matters most.
Agent & Supervisor Application
Tie together all of your Contact Center PBX communications in a simple interface via gloCOM Agent and Supervisor editions. CC Supervisor enables real-time monitoring of Agents and Queues, tracking agents' performance and generating comprehensive statistics reports, while the CC Agent edition provides agents with the right tools to maximize productivity, reduces unnecessary interruptions and makes communication with customers more effective.
Dialer
Contact Center Edition has a licensed Dialer feature. This feature allows lists of data to be loaded to a database, after which an application runs and dials these numbers based on the algorithm or settings entered by the Administrator. The Agent's interface of the Dialer displays Agents with specified information regarding each call. Furthermore, this information is customizable through the Administrator login.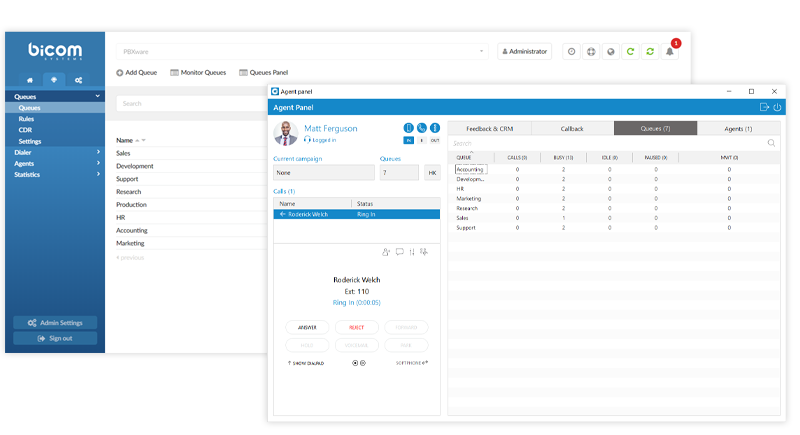 Unlimited Queues (ACD)
Automatic Call Distribution system helps keep customers on the line by routing incoming calls to the agent with the most suitable skill-set who can address the caller's needs properly. ACD is a very important component of a call center and communication system. Some of its capabilities include Priority Routing, First In – First Out (FIFO), Queue Call-back, Call Monitor, Call Barging and more.
Monitor Pages
A Campaigns' Monitor page allows users to see a full list of all existing Campaigns on the system and access further information regarding important Real-Time data. Users may see a table divided into three main sections Calls, Agents, and Contacts. These three sections are then divided into several subsections for a better organization which makes it completely user-friendly.
Multi-Tenant
Unified communication technology for multiple virtual IP PBXs on a single instance
Business
Provides features required by today's demanding communications needs that all businesses face.
Contact Center
PBXware Contact Center edition offers a set of features needed for an organization to effectively start and manage inbound call campaigns.
Tested and proven technologies
With more than 15 years of experience in cloud phone systems, call centers, and unified communications, we have the best tools in the trade to help you start and/or improve your business.
We do not keep you waiting
Your account manager is your single point of contact that is always available to you when you need immediate attention, even when out of the office.
We are here to help
Our technical support team is always available to you via the support ticketing system, and via live chat Monday-Friday from 1AM - 6PM EST.
Solutions tailored for your business
Per your request, we develop custom features which suit your unique business needs.
Get in touch
Complete the form below and a Technology Consultant will contact you to discuss your Telecom needs & put together a customized solution.